Staining
Stain Coat Fence & Deck Stain by Jefcoat is the expert in quality staining and preservation of your wood fence, deck, arbor, play set and more. We clean, stain and seal your exterior wood structure - restoring it to like-new condition. We provide the best quality preservation and protection available using professional grade Wood Defender® stains and sealers.
---
Why Stain Coat?
Stain Coat by Jefcoat is a "Wood Defender" Certified Applicator. We are committed to providing our customers with only the highest quality, oil-based fence and deck stains available. The Wood Defender® commercial-grade stains are formulated for endurance and beauty, and are backed by an industry-leading, product-performance warranty, allowing our customers the maximum time between applications.
Waterproof & Seal Wood
Mildew Resistant
Shields Against U.V. Rays
Stabilizes Wood Color
Restores Weathered Wood
Professional Uniform Application
Up to a Three Year Warranty Against Fading
---
Colors
Stain Coat offers a variety of color choices for you to select from. Our most popular colors are shown below.
Semi-Transparent Fence Stain
The semi-transparent fence stain utilizes opaque pigmentation at a reduced rate to achieve a stained appearance. The unique pigment combination has been tested to prove its unparalleled U.V protection. The combination of pigments offers increased square foot per gallon coverage. With a 3-year manufacturer's warranty, "NOTHING ELSE COMPARES" to Wood Defender®.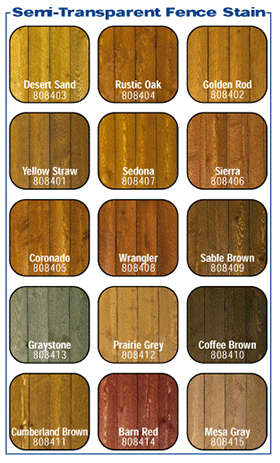 Transparent Fence Stain
The transparent fence stain utilizes ultra-fine Trans-oxide pigments to highlight and reveal all of the wood grain while staining the fence. Trans-oxide pigments are ground so fine they are very resistant to U.V. Rays. The transparent fence stain is commonly desired on a new cedar or redwood fence where the customer is striving to highlight and glorify the existing wood beauty. The transparent fence stain is backed by a 2-year manufacturer's warranty. "NOTHING ELSE COMPARES" to Wood Defender®.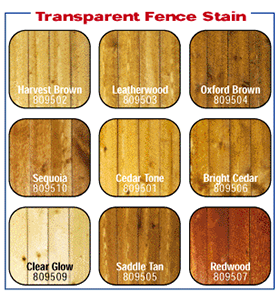 ---
Before & After
Please select any image to view larger.